Highlights:
Snapdragon Spaces adds an innovative feature, Dual Render Fusion, that enables developers to seamlessly add headworn AR experiences to existing smartphone applications.
Thousands of developers have joined the Snapdragon Spaces community, including: Pathfinder Program growing to more than 80 members, three new Metaverse Fund venture investments and an inaugural group of 10 companies joining the Niantic Lightship and Snapdragon Spaces developer initiative.
Expanding the list of XR devices with committed support for Snapdragon Spaces are the new state-of-the-art OPPO MR Glasses and all-in-one AR devices from DigiLens and TCL RayNeo. Lenovo ThinkReality VRX, an all-in-one VR headset engineered for the enterprise, announced worldwide availability this week.
Qualcomm Technologies, Inc. launches new features for Snapdragon Spaces™ XR Developer Platform and strong momentum towards building a cross-device, extended reality (XR) ecosystem to create a headworn future that is truly open.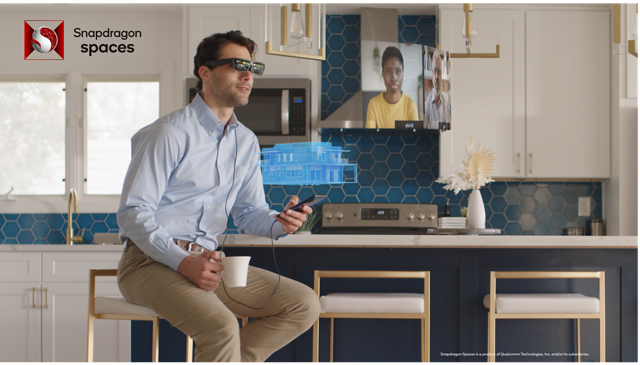 Dual Render Fusion on Snapdragon Spaces
The company helped pioneer smartphone augmented reality (AR) over 13 years ago and with Snapdragon Spaces, is reimagining what smartphone-powered AR can be when combined with AR glasses. The latest Snapdragon Spaces SDK release has unlocked the next evolution in smartphone-powered AR with a new feature called Dual Render Fusion. This feature enables developers to easily extend their 2D mobile applications into world-scale 3D experiences, without any prior XR experience required, elegantly fusing the simplicity and familiarity of the smartphone with the AR glasses capacity to enable immersive experiences. Dual Render Fusion is designed to deliver smartphone AR's full potential, making it accessible to a wider range of developers than ever before.
Developer-First Community
With thousands of developers, and brands like Red Bull and Kittch embracing the Snapdragon Spaces platform, the community has been a critical building block in enhancing the platform's features, helping to break through the limits of reality. The most innovative companies in XR are building with Snapdragon Spaces across enterprise and consumer virtual reality (VR), mixed reality (MR) and AR in a variety of application categories including:
Enterprise collaboration: Arthur Digital, Arvizio, ENGAGE, Scope AR, Sphere, Taqtile
Productivity: Glue Collaboration, MSM.digital, Nomtek, ShapesXR, vSpatial
Gaming and entertainment: AmazeVR, DB Creations, Mirrorscape, Resolution Games, SKonec Entertainment, Survios, Vertical Robot, Wave
Health, wellness, and fitness: eXRciser, FitXR, Litesport, TRIPP, XRHealth
Training: Pixo, Roundtable Learning, Strivr, Talespin, Transfr, Uptale
Education: AjnaVidya, Phibonacci, Prisms, VictoryXR
WebXR: Igalia, Pluto VR, Wonderland
Others: ArborXR, BadVR, Designium, Echo3D, Lamina1
Niantic Collaboration: Building on Qualcomm Technologies' relationship with Niantic, a group of 10 vanguard AR developers will have early access to Lightship VPS with Snapdragon Spaces beginning in the second half of 2023, creating headworn experiences for indoor and outdoor AR that leverage both platforms' strengths. The select group of developers includes Artifice, DB Creations, Foundry Six, Hot Dark Matter, Immuse, Kinfolk, Lifecache, Loak, Sugar Creative and Trigger. These developers will receive early access to new features, influence product roadmaps and help to define next-generation AR experiences.
Metaverse Fund: As part of the Snapdragon Metaverse Fund, Qualcomm Ventures has made investments in Survios, a VR game developer and software publisher, EnlightXR, a China-based XR ecosystem enabler and Tangle, a developer of a virtual workspace for remote teams, in addition to the previously announced investments in TRIPP and Echo3D. The Snapdragon Metaverse Fund continues to enable and foster innovation through venture investment in leading XR companies by Qualcomm Ventures and developer ecosystem grants for content projects by Qualcomm Technologies.
Snapdragon Spaces Ready Devices
Expanding the portfolio of XR devices that will enable developers to bring headworn ideas to life, OPPO, TCL RayNeo and DigiLens have announced new devices that will support Snapdragon Spaces. These devices join a handful of Snapdragon Spaces Ready devices including the Lenovo ThinkReality VRX, an all-in-one VR headset engineered for the enterprise, which just announced worldwide availability.
The OPPO MR Glass Developer Edition features binocular video pass through technologies and is equipped with two RGB cameras in front of the user's eyes, to provide a stereoscopic view of the physical world. The OPPO MR Glass Developer Edition will be made available as a Snapdragon Spaces developer kit, distributed through EnlightXR in second half of 2023.
TCL RayNeo is developing a wide range of cutting-edge AR features, with future support for Snapdragon Spaces, to create a world-class AR ecosystem for consumers worldwide. TCL RayNeo X2 true AR glasses, previously unveiled at CES 2023, are expected to commercially launch in Q2 2023.
DigiLens is set to launch an all-on-one Snapdragon Spaces Ready AR device, ARGO, designed for enterprise and industrial-lite workers.
Snapdragon Spaces continues to expand and create an open ecosystem that enables developers to pioneer innovative experiences for the next generation of immersive technology. For developers who want to help build this new era of spatial computing, visit: https://spaces.qualcomm.com/.
About Qualcomm
Qualcomm is enabling a world where everyone and everything can be intelligently connected. Our one technology roadmap allows us to efficiently scale the technologies that launched the mobile revolution – including advanced connectivity, high-performance, low-power compute, on-device intelligence and more – to the next generation of connected smart devices across industries. Innovations from Qualcomm and our family of Snapdragon platforms will help enable cloud-edge convergence, transform industries, accelerate the digital economy, and revolutionize how we experience the world, for the greater good.
Qualcomm Incorporated includes our licensing business, QTL, and the vast majority of our patent portfolio. Qualcomm Technologies, Inc., a subsidiary of Qualcomm Incorporated, operates, along with its subsidiaries, substantially all of our engineering, research and development functions, and substantially all of our products and services businesses, including our QCT semiconductor business. Snapdragon and Qualcomm branded products are products of Qualcomm Technologies, Inc. and/or its subsidiaries. Qualcomm patented technologies are licensed by Qualcomm Incorporated. Snapdragon and Snapdragon Spaces are trademarks or registered trademarks of Qualcomm Incorporated.
About Qualcomm Ventures
Qualcomm Ventures, acting through Qualcomm Ventures LLC or its affiliated entities, has been making strategic investments in technology companies that have the potential to dramatically transform our world since 2000. As a global investor, we look to help entrepreneurs build revolutionary businesses that reshape the world around us.   For more information please visit: www.qualcommventures.com.
Source: cyberpogo.com
---
For enquiries, product placements, sponsorships, and collaborations, connect with us at hello@firegulaman.com. We'd love to hear from you!